I was at the Viersen Open Art Festival yesterday. My first open air exhibition.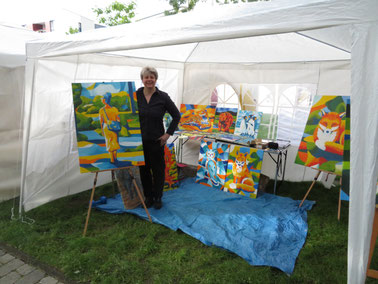 Fantastic organisation, great festival! The weather was nice and there were lots of visitors. I talked to many nice people.

As an exhibitor it is a bit of work with the preparation and the erecting and dismantling of the festival tents particularly since hardly anyone seems to have sold any larger pieces …
On the other hand it was quite interesting with lots of conversations and nice remarks.
I got lots of very positive remarks about my paintings ('Fantastic colour set.., truly unique, radiant colours ...'), some funny remarks, too ('Do you have this one in a smaller size?' or an old lady who asked: 'Did you paint those free-handedly? - Me: 'Well, how else would I do that?' She: ' Well, the grandchildren sometimes bring nice paintings, where they colour by numbers …' :-) ) and some strange remarks ('I find this signature too noticeable … couldn't you sign your paintings in a tonal colour?').
All in all quite the ego-booster and a very nice day.